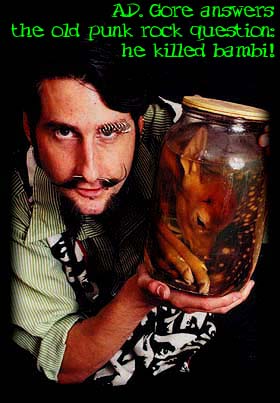 Greetings suckers! 'Tis I, Andrew D. Gore. world-renowned t-shirt terrorist and international provacateur welcoming you to my world of insanity. I'm so glad you could take the time to check out my web site. As the hurricane said to the palm tree, "You better hold onto yer nuts cause you're about to get one hell of a blow job!"

My huge, long-awaited 32-page catalog/hatezine is now available, so put a crowbar in your wallet, you cheap bastards and send me your hard-earned $. You won't be disappointed, I guarantee it.

So, browse through this free taste of the Underground and send e-mail with what you think of it to:

gore@hells-hotline.com

Underground Scream Prints is a hands-on business that is totally 100% fan-based. As my belated friend G.G. Allin put it, "Kill the Corporate Businessman!"