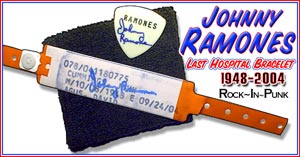 Let me start my Ramones Sideshow Website at the end. This is without a doubt the most precious Ramones related item I unfortunately posess. Below is the last hospital bracelet that Johnny wore during his fight with Cancer. He was going to throw it away, but he thought this would be something I would like (being the freak I am!) He even signed it "Johnny Ramone" - What a guy!! I would like to thank John's wife, Linda Ramone, for keeping this for me. The bracelet sits upon one of Johnny's sweat wrist bands and an autographed guitar pic.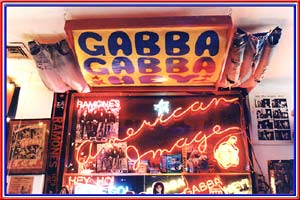 Check out my obsessive compulsive Ramones Shrine, complete with stage-worn, autographed blue jeans from the band; Johnny's Tennis Shoes, the licence plates of Johnny's cars (autographed, of course!), and other paraphenalia that I will list later!
CLICK HERE
FOR A CLOSE-UP OF THE SHRINE!